If you are at the beginning of a new school year and can not add abscences or mark, it may be that the wrong start month is saved. Jumpian thinks that you are still in the old school year.
By default, the first month of school year is september in Jumpian. Starts the new school year in a different month at your school, you can change this easy and fast.
Select in the bottom menu "Extras" and then "Settings".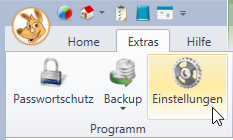 The window "Allgemeine Einstellungen" appears. You can see here the drop-down-menu with the start month of the school year. Confirm your changes of the settings with the "OK"-Button, which is located at the right bottom corner of the window.